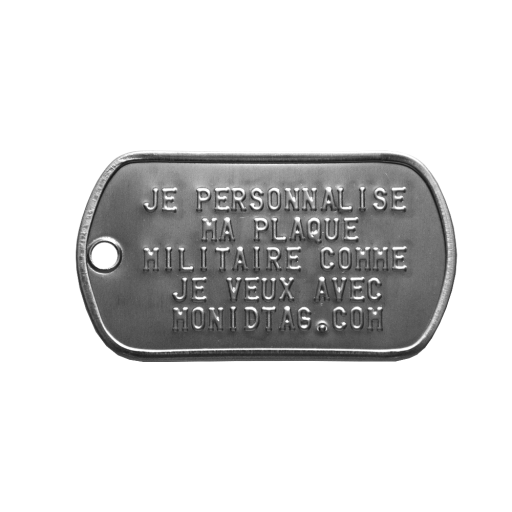 Buy WITHOUT engraving
Quantity :
Add to Cart
Or customize
Customize !
Military Dog Tag in Grade A Matte Steel
MDTAG-PM-304L-MATTE-A
This military plate with turned edges is the traditional Dog Tag used by the US Army since 1969. It is made from type 304L steel , whose main property is that it does not oxidize. It is suitable for everyday wear, and can be fitted with a clasp or silencer (silicone color protection).

Grade A: Matte, flawless. Plate from a supplier accredited by the U.S. Army.
Customization available:
This plate is EMBOSSABLE (embossed) with 5 lines of 15 characters max.
It can be LASER engraved in BLACK with a motif from our library or on request (logo, illustration, drawing).
Material : ACIER INOXYDABLE X2CrNi18-09
Plate origin : USA
Color : GRIS ACIER
Appearance : MAT, Grade A - Officielle.
Dimensions : H 50 x L 28 x P 0.4 mm (+0.4 mm bords)
Weight : 5g