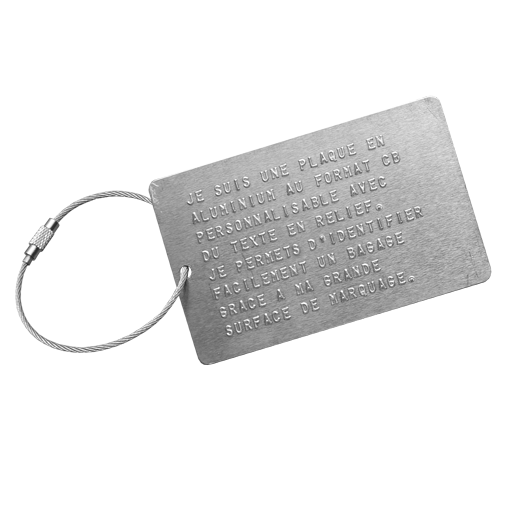 Buy alone
Quantity :
Add to Cart
Metal Suitcase Tag with Cable
CABLE-CBTAG-ALUx1
Supplied with 15 cm steel cable with screw clasp.

Aluminum identification tag in CB format, can be personalized by embossing (raised letters).
Made of aluminum, it will not rust or tear. Thanks to the embossing technique used, its marking is unalterable and resistant to time and UV rays.
For text: 8 lines of 24 characters MAXIMUM INCLUDING SPACES, i.e. one space equals one character.
ATTENTION: CUSTOMIZATION is not yet available on our website.

PROVISOIREMENT, YOU CAN DO IT HERE : Monidtag / Etsy
Material : Aluminium
Plate origin : USA ou France
Color : Gris
Appearance : Brossé
Dimensions : 54 x 86 mm
Weight : 9g