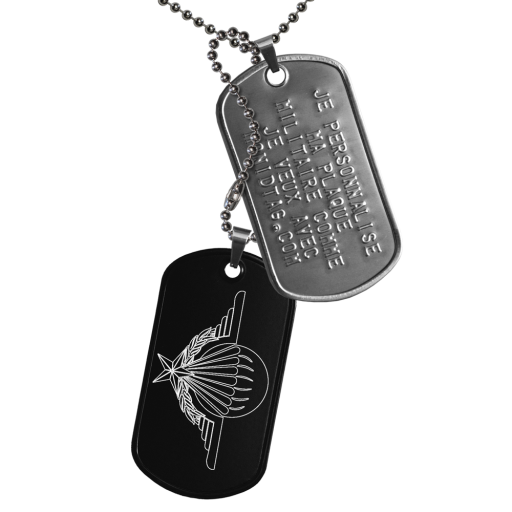 Buy WITHOUT engraving
Quantity :
Add to Cart
Or customize
Customize !
ID Tag Parachutiste - G
SG-PARACHUTISTE-G-ID-TAG
With these military badges engraved with theinsignia of paratroopers, you'll feel like you belong to one of the most prestigious corps in the armed forces!
This ID Tag is made up of 2 steel military badges with turned edges, mounted on clamps. The first, in matt stainless steel, can be personalized by embossing; the second, in black epoxy, is mechanically engraved with a motif from our library. The set is suggested here with a 68 + 14 cm steel ball necklace.
Delivered assembled, it is possible to add a plain silencer or camouflage protection to each plate.

If you would like a different personalization or a different length of ball chain, please visit our ID Tag generator where other designs are available for engraving.
1st plate :
Material : ACIER INOXYDABLE X2CrNi18-09
Plate origin : USA
Color : GRIS ACIER
Appearance : MAT, Grade A - Officielle.
Dimensions : H 50 x L 28 x P 0.4 mm (+0.4 mm bords)
Weight : 5g
2nd plate :
Material : ACIER INOXYDABLE X2CrNi18-09
Plate origin : USA
Color : NOIR
Appearance : LISSE ET MAT
Dimensions : H 50 x L 28 x P 0.4 mm (+0.4 mm bords)
Weight : 5g