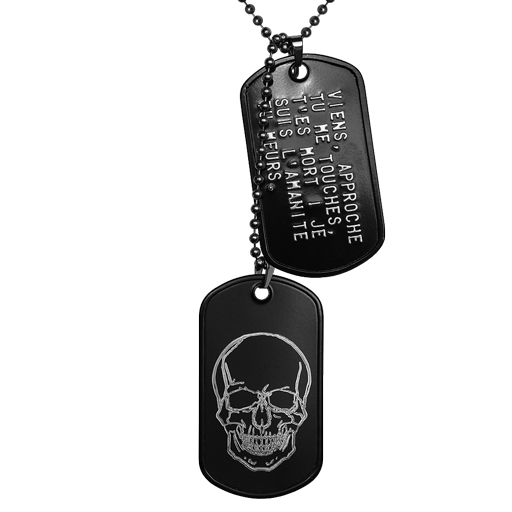 Buy WITHOUT engraving
Quantity :
Add to Cart
Or customize
Customize !
ID Tag All Black
SG-BLACK-ALL-BLACK-ID-TAG
The perfect piece of costume jewelry, this ID Tag NOIR is made up of an embossed military plate and a second plate engraved with a Skull motif from our library. Each plate is held to the chain by a removable clasp on a 68 + 14 cm ball chain.

If you'd like a different personalization or a different length ball chain, go to our ID Tag generator where other options are possible, such as the addition of silencers or the engraving of another motif: Celtic cross, symbol of happiness, para badge, navy seal...
1st plate :
Material : ACIER INOXYDABLE X2CrNi18-09
Plate origin : USA
Color : NOIR
Appearance : LISSE ET MAT
Dimensions : H 50 x L 28 x P 0.4 mm (+0.4 mm bords)
Weight : 5g
2nd plate :
Material : ACIER INOXYDABLE X2CrNi18-09
Plate origin : USA
Color : NOIR
Appearance : LISSE ET MAT
Dimensions : H 50 x L 28 x P 0.4 mm (+0.4 mm bords)
Weight : 5g